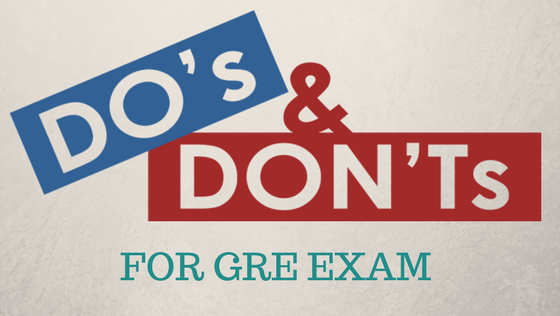 Are you going to take up GRE Exams? Then go through these rules of Do's and Don'ts to get a more idea on what to do and what not to do at the time of your exams.
Do's:
When you go to attend the exam never forget your Government ID Card. It is better to have a photocopy of the ID card and original with you. Always have the habit of arriving at least 15 minutes earlier to the exam hall. Mark the entire question which you feel important at the time of exam. You would know where you are stronger so never miss any of the questions in that part and try to answer it first. Plan your way of answering the questions. You should schedule it in a way of covering all the parts of the paper and you should have more time to review it at last.
Don'ts:
Check for the papers or any notes in your wallet and any of the materials that you are taking the exam hall. Never wear any kinds of a dress with lots of pockets and layers in it that will give you suspicious outlook. Never ever experiment any new techniques or strategies in the exam hall. Always follow your practice method which you have been doing for the past days. Don't stress at the last moment. When there are few days left for the exam, keep practicing all the topics you have studied and don't take something new. If you are not sure about any of the questions in the paper then don't get stuck on it and waste your entire time, skip the question and move further.
It is better to take up GRE Training in Chennai because they will teach you all these strategies and tactics that should be followed at the time of exams. All you should do is to select a good coaching class among them.  There is a number of GRE Coaching in Chennai that teaches really well. To reduce your work in listing out the best classes, we have listed the Top 10 GRE Coaching Centers in Chennai and you can choose the best center from the list that meets up your requirement.
Hope this article is useful to you. Keep following to know more information on the different fields.

Read More 
Spoken English Classes in Chennai | IELTS Coaching in Chennai