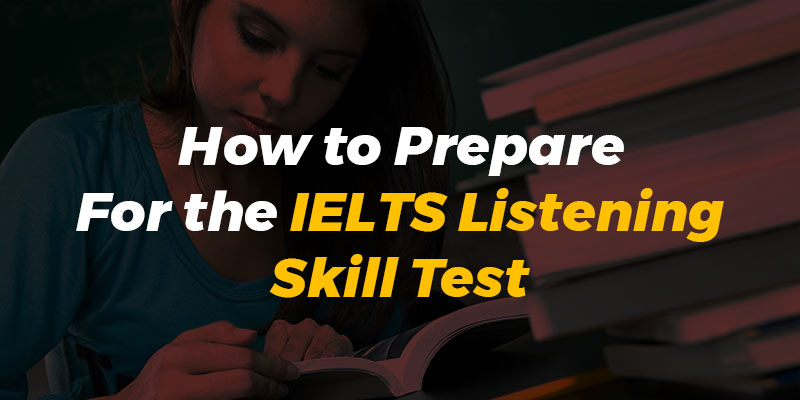 The Listening test is most important in the IELTS exam because it tests the candidate's ability to listen to an ascent speaker. The test is conducted for both Academic and General Training purposes. Now in this blog, we shall discuss the four important sections of the IELTS listening test and the strategy to tackle the IELTS listening test. From this, you will get a comprehensive understanding of testing formats and tips on how to improve IELTS listening skills.
To have in-depth knowledge of this IELTS exam you can enroll in IELTS Coaching in Chennai which provides training for the applicants and trains them to clear the exam with a high band score.
IELTS is the internationally accepted English language test for study, work, and migration. More than 12,000 organizations around the world recognized it. The goal of the IELTS exam is to assess your English proficiency and communication abilities.
You must enhance your English skills in Reading, Writing, Speaking, and Listening before taking the IELTS test. As an initial step, everyday practice to improve your general English. Through general practice, you can improve your Grammar, pronunciation, spelling, syntax formation, and vocabulary through online tools.
If you practice English on a daily basis, then you need not worry, when you plan to take IELTS tests. To improve your knowledge you can learn Newspapers, Magazines, Comic books, Short Stories, Novels, etc. In particular, if you want to improve your listening skill you can focus on YouTube videos and news and English movies.
Listening to the videos and watching English movies helps you to learn the new vocabulary and improve your pronunciation. Through these activities, you can develop your English skills effectively as well as your listening ability as an ascent speaker. In the IELTS listening test, the examiner will look at the ability to listen to the ascent speaker.
To get access to the wider opportunities you can join the IELTS Coaching Center in Chennai Anna Nagar which professionally equip the learners to hone their abilities of Reading, Writing, and Speaking fluently in English.
Now, we shall look at the test formats, which are predominant to move further on understanding the IELTS listening test.
IELTS Listening Test Formats:
There are 40 questions in this test, with 10 questions in each segment. And the test will be conducted for 30 minutes. At the end of this section, you will have 10 minutes for a paper-based IELTS exam.
Now we shall see the four types of sections in the IELTS exam.
In the first section, you will listen to a dialogue or communication between two people. After hearing the conversation, you will have a fill-a-gap question to complete the sentence.
In section 2, you will listen to audio, and the audio will be non-academic. For example, newsreader or radio presenter
In the third section, you will listen to the academic audio conversation.
In section four, you may have a recording typically of an educational conversation. The subject will be history or any other text.
In all four sections, wisely allocate the time because you will have approximately 30 seconds between each section for answering the questions. The recording will be played only once. So, listen to the audio carefully and underline keywords to guess the answer.
There are various types of questions in the IELTS listening test. Here we shall have an overview of different forms of questions you need to be familiar with:
Completion of table
Labeling a map or diagram
Completion of sentence
Short Answers
Note and matching
Multiple Choice
Completion of summary
The question is followed by three alternative responses in multiple-choice tasks. Test takers are obliged to select one correct answer from the above statement, or they may be given a broad list of possible responses and forced to select more than one. As a result, you should examine the question attentively in this scenario.
There are certain scores to obtain in the IELTS exam so to acquire maximum knowledge on listening, you can join IELTS Coaching in Velachery to get a high band score on listening.
Essential Tips for IELTS Listening:
Listen to the four recordings properly and understand the meaning of the speech, then you can respond to the series of questions.
Try to predict the answer, and focus on the meaning of the word.
Answer the following questions by underlining the keywords and understanding the context of the recordings.
In your preferred language, double-check your spelling.
Improve note-making skills because you will have 30 seconds between every section.
Develop your skills in paragraph writing and summary writing.
Now, we shall see how to improve listening skills quickly and efficiently through active listening to various channels.
Watch BBC, Fox News, CNN, ABC, and more news channels, and to increase your listening ability, listen to BBC radio and BBC4.
Furthermore, to improve your grammar, vocabulary, and pronunciation you can listen to podcasts.
To improve your listening skill, watch English-language movies and TV shows without subtitles for the second time.
Actively listen to English music and grasp the lyrics so that you can sing along.
Improve your listening abilities by listening to audiobooks. To enhance your listening skills, look for audiobooks on YouTube and attempt to watch one every day.
Furthermore, to improve your listening skills, here we recommend useful websites: Breaking News in English, British council, Ted Talks, ELLO, BBC, and there are many more networks, which you can make use of to enhance your English listening skills. Now, we shall see a few networks in detail:
British council: To enhance your listening skill, you can watch videos on British Council which focuses on beginners to advanced learners.
Ted Talks: In Ted Talks, you can acquire knowledge through casual talks and presentations. It helps you to learn new vocabulary and pronunciation, which is important for the IELTS listening test.
BBC Learning English: In this channel, they focus on giving you the information in 6 minutes. Here you can develop your listening skills as well as you can understand intermediate to advanced grammar.
ELLLO: There are more than 2000 free lessons on listening. There are various lessons available for beginners, intermediates, and advanced students.
By now, you would have understood the importance of listening skills and how listening skills are so important in IELTS testing. Though we have many sources for learning IELTS testing, we need the right guidance to achieve our band score of 9. So, to achieve a band score of 9 you can enroll in IELTS Coaching in Tambaram which provides General and Academic Training for aspirants who are striving for jobs abroad and higher studies respectively.