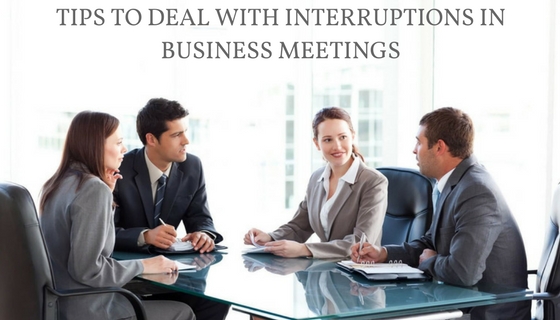 Not only doing a business but conducting a business meeting peacefully is also a big deal. You might have to face a lot of interruptions in these business meetings. This article will talk about the tips to deal with interruptions in business meetings. Like in any language training, even in German Classes in Chennai, you are taught to talk well in business meetings.
IGNORE THE INTERRUPTION
The best way to deal with an interruption is by just ignoring it. A meeting has to put through all the vital Information as planned. So it is important to just simply ignore those who interrupt. You can admit and take some occasional interruptions when they are absolutely right. But this should not repeat as it will be a great disturbance to the meeting. You can just keep quiet till he/she finishes and then continue as if nothing happened. Being ignorant doesn't mean you are disrespecting the interrupter.
SET EXPECTATIONS IMMEDIATELY
Right when you start your meeting, inform about what you expect from the participants during the meeting. Talk about your expectations to your teammates and inform them about the importance of the meeting. Informing in advance will help you to avoid any unnecessary interruptions. When you start something during your meeting, give certain instruction in the beginning of it. For example, if you are planning to start a presentation, inform the participants of the meeting that questions and doubts can be asked after the presentation is over. This is a polite way of informing that your presentation should not be interrupted.
AVOID EYE CONTACT
People generally feel like asking questions and interrupting when they feel that you are directly interacting with them. An interrupter will want to catch your eye contact in order to target a question or point at you. The best way to stop them is by simply avoiding eye contact. When you stop giving eye contact it will be difficult for a person to interrupt you. Try not to maintain eye contact with one single person for a very long time in a meeting. This might e difficult in a one-on-one meeting as only two people are involved. The importance of eye contact is taught in IELTS Classes in Chennai.
ASK QUESTIONS
Not always you can do away with an interrupter who stops you in the middle of your speech. This is because his/her point might be something that is valid. In such cases, you can ask questions or ask the person to elaborate on the question or doubt. You can also address the interrupter directly and inform him politely that his point is valid and that you could have a discussion on it later. Since you are talking to him directly you should make sure to be polite.
Business meetings are a very crucial element when something new is to be started or when a project is to be completed. It is also important to keep meetings while a project is carried out. Any kind of meeting the language used has a vital role. To know more about foreign languages, try joining for French Course in Chennai.

Read More 
Spoken English Classes in Chennai | Best IELTS Coaching in Chennai