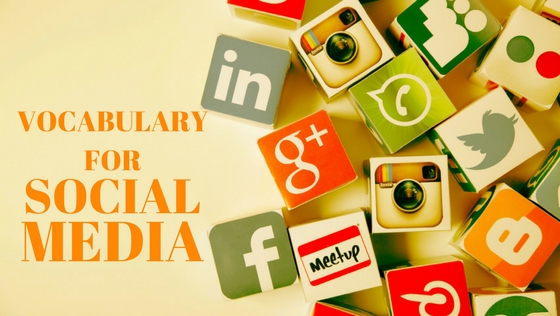 Social is the heart of today's generation. It has so much prominence among the people and especially youth. Social media provides immense scope and opportunities to showcase one's talents and also it acts as the best platform to express one's views on any issue. The best way to gain mass attention for anything you do is to use the medium of social media. Social media is known to gain rapid attention. It is also a useful tool for various business requirements like advertising and marketing. It has diverse options to explore various platforms for expressing ideas and opinions. Social media is used for both formal and informal purposes.
 But what is more important is vocabulary and the style of language you use. The vocabulary that you use will show your standard of thinking and ideas. This vocabulary needs to be updated and stand in trend with the current generation's thought process. This vocabulary is useful for English Coaching Classes in Coimbatore. Let us look at some of the necessary vocabularies for social media.
APP
App is basically the short form of application. Apps are known to be generally easy to start and maintain. Apps are applications designed and developed for mobile devices like tablets and cell phones. These apps are developed to provide information based, entertainment based or service based experience to the public to satisfy their various requirements and needs. There are both paid and free apps.
Life Casting
Life casting is the activity when people choose to put up their lives on the internet. While some people prefer privacy some might be okay in broadcasting their lives on the internet. This activity gives an opportunity to anyone with the required stuff to be the star of social media. In one method the person himself wears a camera around his neck and records his life. This will appear as if we are watching their life from their eyes. In certain other cases, a person is followed by another person with a camera and records the happenings of that person's life.
VLOG
Vlog is the shorter form of a video blog. Vlogs are more engaging compared to life casting as Vloggers get the opportunity to edit and correct their videos. Through blogs, people show what they do in their daily life in an interesting manner. English Classes in Coimbatore instructs that one can learn English even through various Vlogs on the internet.
Streaming Media
Streaming media is when the content is given life to the audience as it happens. Many shows and events like sports and award functions are put up live on streaming media. It helps the audience to enjoy the show or event in its complete essence.
MOBLOG
Moblog is the shorter form of a mobile blog. These are blogs posted from mobile devices. These blogs are shorter in size compared to regular blogs and there is also an ease in creating such blogs as there is no need to sit in front of the computer. They can also add photos and videos to this.
Viral
Viral is when a content reaches a huge amount of people and when many have seen and shared it with others. Any photo or video or content can go viral. Becoming viral is what many people want to achieve in today's world. A content can go viral both in a positive and negative manner depending on the trend and tastes.
Feed
Feeds are present in many social media platforms. Feed is useful in organizing all our favorite data into one comfortable place.
CrowdFunding
Crowdfunding is when many people come together to raise money for some projects through the power of social media.
Troll & Meme
These are pictures with wordings that use images of celebrities to criticize various incidents and people. It includes both entertainment and information type.
Training yourself in vocabulary is very important for learning a language. And that too when it is related to social media it will have more importance as it is the major connection and communication between people. To educate yourself in such vocabulary, join IELTS Classes in Coimbatore.