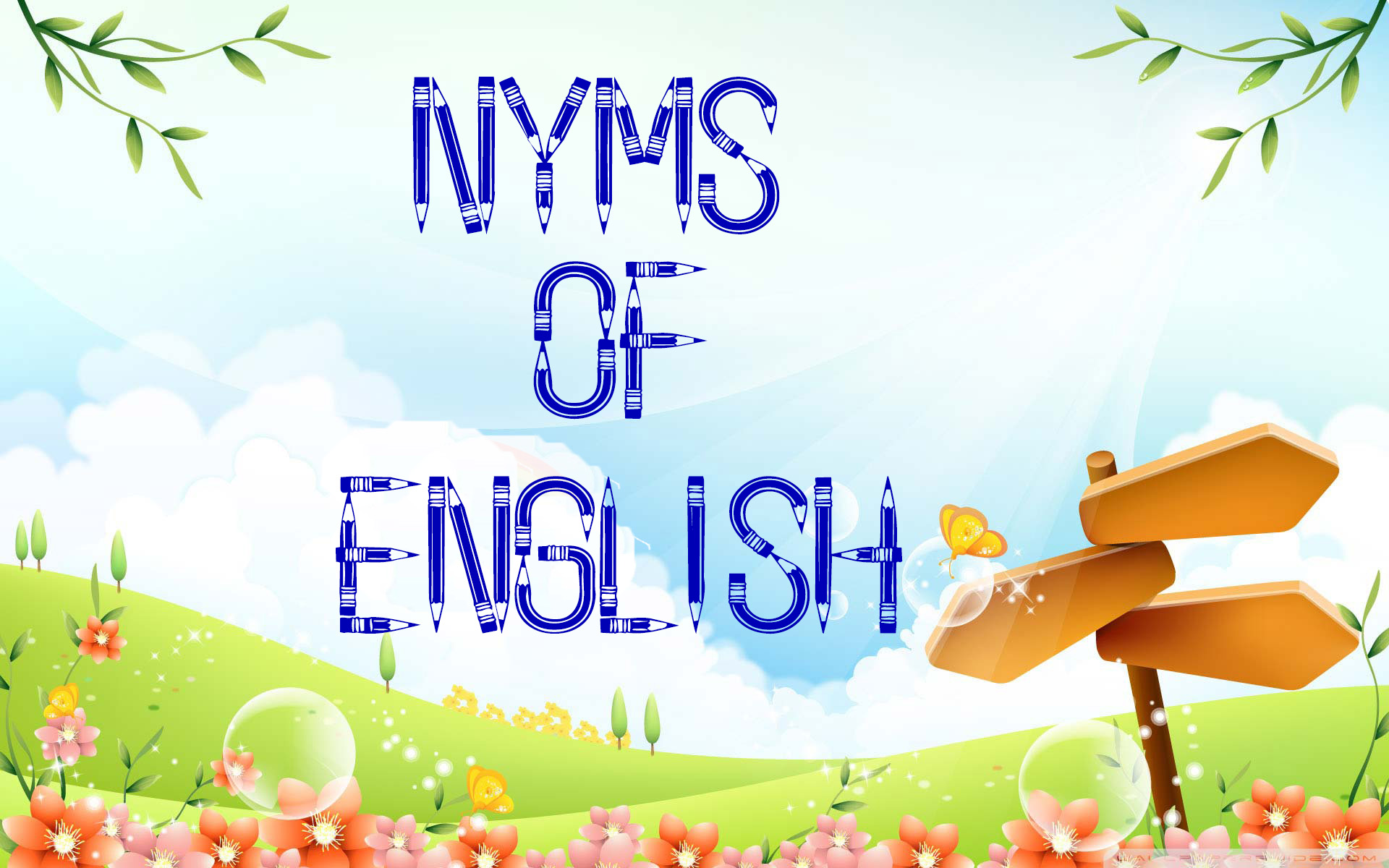 We are going to have a look at a set of words that end with nym and also their meaning. These words indicate the kind or type of a word. To know more about such nuances of English Attend Spoken English classes in Chennai and gain more knowledge in the English language.
ACRONYM
Acronym  is an abbreviation formed from the initial letters of a series of words. These are basically the names of organizations. It is also known as Protogram or initialism.
Eg: ICC(INTERNATIONAL CRICKET COUNCIL)
       IAS(INDIAN ADMINISTRATIVE SERVICE)
ANTONYM
Antonym is a pair of words that are opposite to each other in meaning. It indicates the extremes.
Eg: UP-DOWN
       PUSH-PULL
APTRONYM
Aptronym is the name of a person that matches its owner's job or character. It can be either in reality or fiction.
Eg: Arctic explorer ADAM SNOW
       hairstylist DAN DRUFF
AUTOANTONYM
Autoantonym is a word that has two or more meanings. It is also known as Contranym.
Eg: BILL- invoice or money
       FAST- fixed firmly or moving quickly
AUTONYM
Autonym is a word that self explains its meaning. It also means as the real name of a person. Its another meaning is that a name by which a social group or race refers to itself.
Eg: 1. NOUN is a noun
BACRONYM
Bacronym is the reverse of producing an acronym like taking an existing word and creating a phrase.
Eg: BANANA(Build Absolutely Nothing Anywhere Near Anybody)
CAPITONYM
Capitonym is a word that changes its meaning and pronunciation when it is capitalized.
Eg: polish-Polish
       concord-Concord
EPONYM
Eponym is that name from which another name or word is derived.
Eg: Romulus-Rome
EXONYM
Exonym is a place name used by foreigners that differ from the name used by natives.
Eg: Londres-London
       Deutschland-Germany
HETERONYM
Heteronym is one or two words that have the same spelling but different meaning.
Eg: Sewer, Row
HOMONYM
Homonym is one or two words that have the same spelling or pronunciation but are different in meaning.
Eg: right-wright
HYPONYM
Hyponym is a word that has a more specific meaning than another.
Eg: parrot is a hyponym to birds.
METONYM
Metonym is a word designates something by the name of something related to it.
Eg: Bottle-alcohol
METRONYM
Metronym is a name derived from the name of one's mother.
ORONYM
Oronym is a string of words which is homophonic with another string of words.
Eg: Ice cream- I scream
PARONYM
Paronym is a word from the same root and usually a similar pronunciation
Eg: Beautiful-beauteous
PATRONYM
Patronym is a name derived from the name of one's father.
PSEUDONYM
Pseudonym is an assumed named mostly by an author.
RETRONYM
Retronym is an adjective-noun pairing generated by a change in the meaning of the base noun as a result of technological advancement.
Eg: watch became pocket watch due to the invention of the wrist watch.
SYNONYM
Synonyms are those words that have the same meaning.
Eg: Take-Lift
TAUTONYM
Tautonym is that word composed of two identical parts.
Eg: paw-paw
TOPONYM
Toponym is a word derived from a place name.
Eg: cashmere from Kashmir.