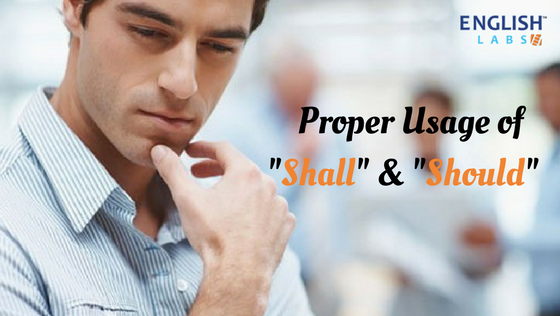 In our day to day life, we use the English language everywhere; proper usage of English will always show you unique from others. Learn English the global language which always opens many doors for your career growth.
The usage of auxiliary verbs completely depends on the situation to show the possibility, willingness, necessity, or capability. To indicate something happened in present, future or past verbs will be helpful for us.  Whether the subject of the sentences is singular or plural the change will be indicated through verbs. We need to understand the auxiliary verbs and use them correctly. Many institutes offer Spoken English classes, choose the best one that develops your English Skill. Let us see the proper usage of shall and should.
SHALL
Shall is used to ask a question politely which is mainly used in American English. The usage of shall is more in British English. To ask a suggestion in a very formal situation or for any obligation shall is used.
Normal usage of shall
Shall we go outing by today Evening?
Let's play, Shall we?
Shall we overcome this problem?
To make a request or obligation
Shall I do this?
Shall I take your book?
SHOULD 
The past form of shall is "should". People often use should express their ideas, condition, and opinion. Depend upon the usage of a sentence "should" is used.
I should leave office by 6 PM daily.
Should I go to the market tomorrow?
Used to ask for someone's opinion:
Should I remove the content or not?
Should I make an arrangement for tomorrow's meeting?
Should I review your web page?
Should I switch off the fan?
Everyone will get confused how to use shall and should; instead of worrying about these types of problem, it is better to attend Spoken English Classes in Bangalore they will teach from the beginning and help you to clear all your doubts and at the same time, your fluency in English will be developed.  Before using the auxiliary verbs first know the usage for those verbs and then use them by framing a correct sentence.